Discover the Most Popular Used Truck Brands and Models for the Streets of Quincy, Brockton, Weymouth, and Beyond!
Are you shopping for a quality used pickup truck? If so, look no further than our used truck inventory at Midway Automotive. With our used trucks, Weymouth-area shoppers can rest assured that they are purchasing a truck that's capable and durable. From our used Ford trucks to our used GMC, Chevy, and Ram trucks, we have a pickup that can meet your needs.
What Are Some Benefits of Buying a Used Truck in the Quincy, MA Area?
Choosing a used truck provides you with several perks, such as:
Buying a used truck at our dealership can save you a significant amount of money without sacrificing quality.
Our used truck inventory offers a variety of models with price ranges that can meet your budget.
Another advantage of purchasing a used truck is that you don't have to worry about the initial depreciation that's seen with new vehicles.
When you're shopping for a used truck, you can research the model years that you're interested in to see the pros and cons of each model. Previously owned trucks give you access to more in-depth reviews that can help you choose a perfect fit.
Some used trucks come with add-on features, such as Tonneau covers and performance packages, so you get more bang for your buck.
Popular Ford Truck Models
Ford trucks are known for their capable engines that are "Built Ford Tough." The Ford F-150 is the best-selling pickup truck on the market because it delivers remarkable towing capabilities for a light-duty pickup truck. With used Ford F-150 trucks, you can choose from a plethora of exterior colors, interior features, and durable engines. If you want a truck that's appealing to the eye and capable, a used Ford F-150 may be the truck for you.
Those who want a used heavy-duty Ford pickup truck should check out the Super Duty, which includes the F-250 and F-350. From their impressive gas engines to their powerful diesel engines, used Ford Super Duty trucks are the way to go if you want iconic Ford power. Not only do used Ford pickup trucks offer durable engines and reliable performance features, they also come with interior features that are innovative and provide everyone in the cabin with a comfortable ride.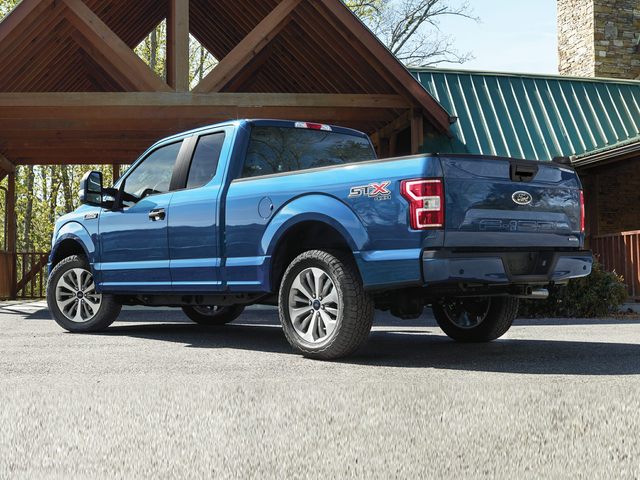 Ford F-150 Truck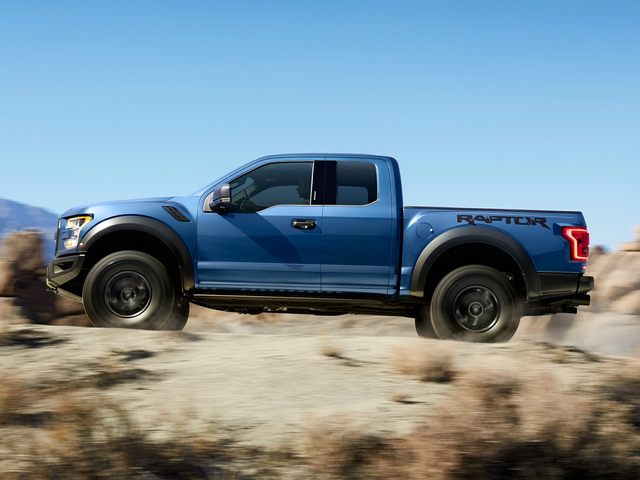 Ford F-150 Raptor

Ford Ranger Truck
Chevy Truck Models that People Love 
Do you want a used Chevy truck? Those who are looking for a used mid-size pickup truck should check out the Chevy Colorado. With a used Colorado, you get plenty of interior space and outstanding utility, and used Chevrolet Colorado trucks are a great option because they offer versatility. You can choose from a number of configurations that provide you with an awesome off-road vehicle, powerful work truck, capable towing machine, or efficient daily driver.
The Chevrolet Silverado 1500 is a light-duty truck that has multiple trim levels that are functional and stylish. While used Chevrolet Silverado 1500 models have outstanding power, Chevrolet Silverado 2500 HD and 3500 HD models are great options for truck shoppers who want incredible power and capability. Chevrolet Silverado models have a host of cab designs to choose from, and they are also equipped with powerful engine options that can take on tough jobs with ease.

Chevy Silverado 1500

Chevy Colorado
The Ram Truck Lineup
Used Ram trucks are another popular option with truck buyers at our dealership. Used Ram 1500 trucks are a great choice because they provide you with long-lasting durability, have outstanding safety ratings, and offer a host of trims. Used Ram 1500 trucks have numerous powertrain configurations to meet your driving style and needs. They are also accommodating to drivers who want impressive towing capabilities and an excellent payload.
Shoppers who are looking for a workhorse will get plenty of capability with used Ram 2500 and 3500 trucks. These trucks are equipped with performance-enhancing features that include gas and diesel engine options, and the higher trims offer cabins that give you and your occupants comfort and luxury. Many of our used truck shoppers like Ram trucks because they have unique designs that integrate head-turning style with functional capability.

Ram1500

Ram 2500

Ram 3500
Popular GMC Trucks
If you're shopping for a small pickup truck, a used GMC Canyon is an ideal option. Used GMC Canyon trucks offer comfortable interiors and have bed lengths that give you plenty of space to transport your cargo. Furthermore, a used GMC Canyon gives you good fuel economy when compared to other trucks in its class. A used GMC Canyon is the way to go if you want a compact truck that doesn't sacrifice on efficiency, style, and performance.
Used GMC Sierra 1500 trucks are a great choice if you want a light-duty truck that has impressive off-road capability. If a GMC heavy-duty pickup truck is on your list, then a used GMC Sierra 2500 HD gives you awe-inspiring power on and off the road. GMC Sierra pickups are a popular option among Braintree, MA used truck buyers because they have plenty of features that boost performance and interior features that give you ample space and comfort.



GMC Canyon

GMC Sierra 1500
Contact Us Today to See Our Inventory of Used Trucks
Our team always welcomes the chance to help truck shoppers find a model that's right for their needs. You can stop by Midway Automotive near Brockton to browse our used truck inventory and take your favorite model for a test drive. Our team is confident that there's a used truck in our inventory that you'll be happy with, and we always ensure that our customers enjoy a hassle-free experience.
Make an Inquiry
* Indicates a required field
Hours
Monday

9:00AM - 7:00PM

Tuesday

9:00AM - 7:00PM

Wednesday

9:00AM - 7:00PM

Thursday

9:00AM - 7:00PM

Friday

9:00AM - 6:00PM

Saturday

9:00AM - 5:00PM

Sunday

11:00AM - 4:00PM